---
Veilig beginnen met beleggen met weinig geld?
Begin met beleggen met Bux!
Bux is een betrouwbare Nederlandse Beleggingsapp.
Handelen via Bux, een 'casual trading app', is overzichtelijk gehouden en kan in eerste instantie met nepgeld, funBux.
Binnen een paar minuten stap je in één van de aandelen die Bux aanbiedt – A-merken als Amazon, Apple en Adidas, naast KLM, KPN en andere AEX-fondsen – maar ook in olie, goud en een paar valuta kan worden belegd.
Zodra je de smaak te pakken hebt, open je een rekening bij Bux en handel je vanaf 35 cent per transactie, volgens Bux de laagste transactiekosten in Nederland.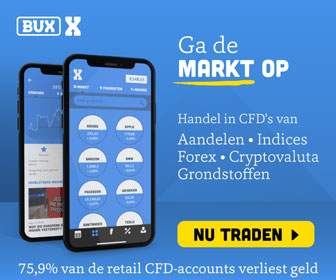 ---
Hoe winst te maken met beleggen:
Leer de winstgevende strategie van een ervaren belegger
Harm van Wijk is de oprichter en hoofd-beleggingsexpert van Beleggen.com.
Hij heeft de afgelopen 32 jaar niks anders gedaan dan particulieren ondersteunen met beleggen in aandelen en opties.
Als grensverleggende beleggingsexpert is hij bekend van zijn boek "In 10 stappen succesvol beleggen" en optredens bij Eenvandaag, BNR nieuwsradio, Radio 1, Radio 2, RTL Business Class, Beleggersfair en ga zo maar door…
Ook is hij in de afgelopen jaren adviseur geweest voor SNS Bank, Binck Bank, ING, Citibank, Lynx, De Financiële Telegraaf en ABN Amro Turbo's.
Het resultaat hiervan was dat duizenden (beginnende) particuliere beleggers uit Nederland en België naar hem toekwamen voor advies en hem letterlijk alles vertelden over hun verlangens, wensen, uitdagingen en valkuilen.
En nu leert hij particuliere beleggers hoe ze dit kunnen gebruiken om succesvol te beleggen voor hun pensioen, hypotheek en (klein) kinderen via deze gratis training.
==>>Schrijf je nu in voor de gratis training Succesvol Beleggen
Volg de gratis beleggers training door Harm van Wijk
Wat leer je?
3 stappen om te beleggen als beginner met een mooi rendement en te voorkomen dat u dure beginnersfouten maakt
​De #1 beleggingsstrategie voor 2020 om succesvol te investeren voor uw pensioen, hypotheek, (klein) kinderen en andere doelen.
Starter checklist, vuistregels en tools om consistent winstgevend te beleggen met zeer lage risico's in aandelen, opties en meer…
​Ook is er een Q&A waarin hij je persoonlijke vragen beantwoord
---
 
Sometimes even good stocks fall in value. That's because the economic environment is an important driver of asset returns. But what types of investments do well in each environment?
The purpose of an investment clock is to demonstrate where we are in the economic cycle and help decide what to buy in each environment. And, most importantly, "What Time is it Now?"
If you want to find out more about becoming a pensioncraft.com member and how you can access the Trackers I show you in this video then use this link
What Else PensionCraft Offers:
? Book a coaching session with Ramin so he can answer your questions in a one-to-one video call via Zoom:
? Sign up for our free weekly market roundup to get news and views about what's going on in the stock market and wider economy
? Understand investment in more depth with my online courses
❓ Join PensionCraft on YouTube and you'll be supporting me to make more content and I will answer your questions and respond to your comments on YouTube as a priority
Timestamps
00:00 Introduction
00:29 The Business Cycle
01:37 Equity Sectors
05:06 Reality
07:34 The Problem
08:12 What Time Is It?
Where Else You Can Find Me
?You can check out my weekly podcast all about investing here
? Website –
? Twitter –
? Facebook –
? Linkedin –
Tools I Use To Create My Videos
✔️ My primary data source is SharePad and an affiliate link for this is here (This link provides new users with a special offer and gives me a small commission)
The rest of the tools I use are free open source software:
✔️ ggplot2 package in R for my plots
✔️ RStudio to edit and run R code
✔️ OBS to record my videos and live streams
✔️ Kdenlive to edit my videos
Take A Look At Some Of My Other Videos & Playlists
? Investment Strategies playlist
? Economy & Investing playlist
? Behavioural Investing playlist
? Investing Strategies From Beginners To Advanced video
DISCLAIMER
All information is given for educational purposes and is not financial advice. Ramin does not provide recommendations and is not responsible for investment actions taken by viewers. Figures that are quoted refer to the past and past performance is not a reliable indicator of future results.
#Investing #StockMarket #PensionCraft